Fort Lauderdale station renderings revealed for All Aboard Florida
Posted on Wednesday, July 9th, 2014 at 9:25am.
County and city legislators unveiled renderings Tuesday for Fort Lauderdale's $30 million All Aboard Florida station at the site of its future groundbreaking.
The 60,000-square-foot station will be built at the northern end of downtown Fort Lauderdale on 4.8 acres of land on NW 2nd Avenue, between Broward Boulevard and NW 4th Street, and adjacent to the Florida East Coast Railway.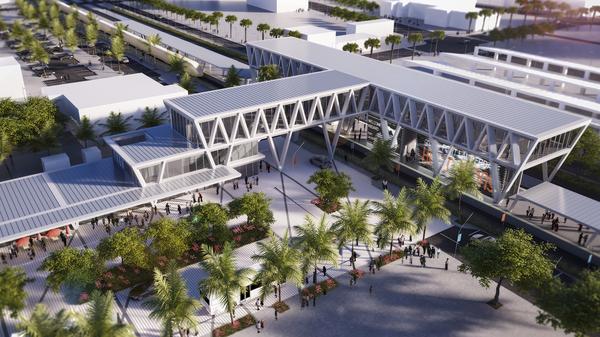 Building of the Fort Lauderdale station and rail line is expected to create 800 construction jobs and have an economic impact of $333 million through 2021, generating more than $34 million in additional tax revenue for the county, according to a study by The Washington Economics Group conducted on behalf of All Aboard Florida.
Located near connections to the Sun Trolley, Broward County Transit system and the future Wave Streetcar and planned Tri-Rail station, Fort Lauderdale's station is smaller than Miami's 3 million-square-foot facility and is designed to move travelers more quickly to the major stations in Miami and Orlando, according to design partner Bernard Zyscovich, CEO and Founder of Miami-based Zyscovich Architects.
Leave a Comment